Dreamweaver have a habit of throwing annoying pop-up error messages whenever you try to start your morning, and this morning it threw a minor paragraph at me:
The following translators were not loaded due to errors:
ICEregions.htm: had configuration information that is invalid.
jQueryMobile.html: has configuration information that is invalid.
XSLT Transform.htm: has configuration information that is invalid.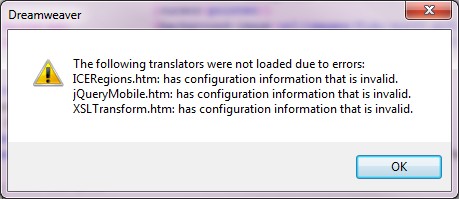 Most Dreamweaver errors are caused by its file cache system. If you are lucky, a quick workspace layout reset can solve some of the minor problems. Menu : [Window] > [Workspace layout] > [Reset 'Current Workspace name']. If that didn't help, we have to dig into Window's application data folder.
Go to : C:\Users\[Current User]\AppData\Roaming
Or Windows start menu > Run > type: %appdata% and hit enter.
From there, navigate to Adobe\Dreamweaver CS(Version Number)\(Language)\Configuration
In my computer it's Adobe\Dreamweaver CS5.5\en_US\Configuration
Find theWinFileCache*.dat file(s) and delete them.. If you have more than one Configuration folder (I have "Configuration" and "Configuration-1") go into each one of those and delete WinFileCache*.dats.
Restart Dreamweaver. You can start coding again.