On Amazon, Kindle has received incredible feedback 14,168 reviews averaging 4.5 stars. Most of those reviews end with a cliché: "I love my Kindle". Well, I love my Kindle, too. I also love Prometheus Springs, and ColdFusion. They are all extraordinary products. However, my Kindle screen has broken two times now within just 6 months, each time in quite the same way. The top half of the screen freezes, like a mammoth in Siberia, while the bottom half countinues to work fine.
A quick search on Google revealed that this problem is quite common with Kindle. Amazon refers to the problem as "Impact Damage". Well, every day I carry, a notebook, a DSLR camera, three lenses and my Xperia Phone in my backpack. None of them has ever had any "impact damages." Did I say I carry three lenses?

The first time I had the freezing problem, my Kindle dropped out of my backpack on to the table - a 6 inch drop. That was it. The top half of the screen froze. Kindle may have been poorly engineered, but Amazon is defiantly not. When I told them that my Kindle went belly up, and that it was still covered by a one year warranty – I got a new Kindle in two days. What wonderful service! (Asus could learn a thing or two from Amazon...)
Understanding that Kindle is a fragile pixie, I began treating it with the utmost care like a baby. Not like just any baby though, like a preemie. I never left it on the bed like I do with my laptop. I woulldn't even let my son touch it. But one night I turned on the Kindle and to my utter disappointment, the screen was frozen again. Two times? Really? It was still covered by the warranty, so Amazon sent me yet another brand new Kindle. (Dell could also learn thing or two from Amazon...)
When things like that happen, you start to wonder could it be me? Am I a serial Kindle killer? I don't know. What I do know is that I hope there won't be a third time.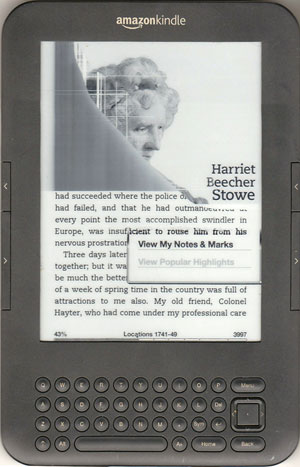 Update : July 03 2012
Third Kindle broke. Only read a half a book since I start to use it again. Out of warranty now. I think Sony e-reader is a honest product.